I was cleaning up my bookmarks and found a bunch from when I lived in an old Edwardian Colonial in New Jersey. At the time, I really wanted an antique cylinder desk for the parlor. Never got one, but I still love those old pieces. Here are some beauties...
A stunning piece of walnut furniture from Harp Gallery ($2,500).
Beautiful marquetry and floral design from Antiques of River Oaks on 1stdibs ($3,500).
Now that I live in a California ranch house, this desk from Horseman on 1stdibs ($1,499) is probably more appropriate.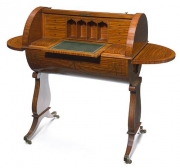 I adore the pigeonholes and petite scale of this antique desk from French Kings Antiques.
And, pulling up a pretty little desk chair like this one from G4 Decor on 1stdibs ($850) will surely put you in the mood to compose some good ole handwritten letters.