I received my "new inventory" email from Craig Van Den Brulle, and this beautiful dresser stuck out like a green thumb! Everything about this 1940s Tommi Parzinger piece is stunning -- the knobs, leather, gold detail & deep mahogany -- and so is the price tag ($18,000).
Someone could do a bang-up job and hack this $99 pine dresser from IKEA into a decent knock-off, starting with adding a dark stain to the top, sides & legs.
Follow the instructions on the Behr website for painting the drawer fronts with a faux leather finish, using Climbing Ivy (470B-7) as the topcoat color.
Another route is to upholster the drawer fronts with an animal-friendly faux leather ($21.40/yd.) from Decorative Fabrics Direct.
Although not exactly like the Parzinger original, this knob ($4.39!) from Van Dyke's Restorers has the same disk shape and enough distressing to make it appear vintage, but I might give it a more contemporary spin...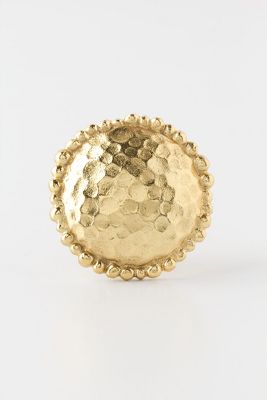 ...with this hammered-brass, beaded beauty ($10) from Anthropologie.
And, finally, don't forget to stencil the drawers' edges with a metallic gold paint. I like the fourth stencil down in the image above, from Victoria Larsen ($14.99). The site also sells a Greek Key stencil, which is, of course, always chic.